The Curmudgeon is mostly recovered from the wave that hit us ... the Ohio State Buckeye wave that engulfed East Lansing, of course. And he celebrates a huge drop in his email volume as the political fundraising season comes to a close!
First, Some Good Great News
The federal budget deficit is down again, the 5th straight year of declining deficits (as a percentage of GDP); the 2014 deficit is 66% lower than in 2009. The Congressional Budget Office reports that
"The deficit peaked at 9.8 percent of GDP in 2009; it fell to 4.1 percent in 2013 and to 2.8 percent in 2014."
Of course it is just a coincidence that the decline in the deficit started with the first Obama budget and has continued during his entire tenure, and that the peak deficit was under George W. Bush. Just like it's a coincidence that America was losing 750,000 jobs per month at the end of the Bush administration, and has enjoyed 55 consecutive months of private-sector job growth under President Obama. Or that the stock market is at record levels. Or that corporate profits are at corporate levels. Or that the unemployment rate is at its lowest point since 2008.
No wonder Obama has such a low approval rating. He's ruining the economy.
Now, the Bad: More Election Rigging
Michigan Republicans seem intent on following through on a
Reince Preibus-endorsed plan
to virtually guarantee a Republican – any Republican – is elected President in 2016. They want to change the Electoral College in a way that would strip the Democratic nominee of about half of her/his electoral votes in a handful of large states.
The change would award electoral votes based on Congressional district: the winner of each Congressional district would get one vote, plus the state's other two votes would go to the statewide winner.
The change would only be enacted in states that voted for Barack Obama, but have Republican-controlled Legislatures and Governors: Michigan, Ohio, Wisconsin, Pennsylvania, Iowa, Nevada and Florida. These states combined for 105 of President Obama's 332 electoral votes (it takes 270 to win). (Pennsylvania, with its 20 electoral votes, shifts to a Democratic governor in 2015. A change there would have to happen during a "lame duck" session this year.)
Thanks to nationwide gerrymandering, Republicans control far more congressional districts in these states than votes. In Michigan, Democrats have consistently received more votes for Congress than Republicans, but the GOP maintains a 9-5 advantage in members of Congress.
Had the GOP plan been in effect in Michigan in 2012, Obama – who beat Mitt Romney by 450,000 votes – would have lost the all-important Electoral College vote 9-7. The same would have happened in the other states on the GOP hit list, and Romney would have been elected President despite losing the popular vote by 5-million nationally.
Any claims Republicans make in support of the change are negated by one fact: they only want to change the rules in states carried by Obama. There's no talk, for example, of shifting Texas to the proportional electoral votes because the GOP knows it can count on winning in Texas with its 38 electoral votes.
Governor Rick Snyder says he is open to the idea. He told the
Associated Press
he "could go either way" on the change, but it is a reasonable issue to debate. Thankfully he at least didn't say "it isn't on my agenda," which would have signaled that he'd sign the bill in a heartbeat.
This is solely about rigging elections. The GOP is a dying brand in terms of votes. By changing the rules, it can perpetuate itself as the party in power even though it is the minority party.
The Presidential Medal of Freedom
The White House has announced this year's 19 recipients of the highest civilian award of the nation, the
Presidential Medal of Freedom
. Three of the 19 are Michigan natives:
Congressman
John Dingell
, the man who is wrapping up a record 59 years as a member of the United States House of Representatives. Anyone reading this blog knows the incredible record of the Dingell. He campaigned throughout his career for something that seemed unreachable: universal health care for Americans. The Affordable Care Act is a monument to his decades of work.
John Dingell is a lifelong public servant, the longest serving Member of Congress in American history, and one of the most influential legislators in history. Having represented Michigan in the House of Representatives since 1955, Mr. Dingell has fought for landmark pieces of legislation over the past six decades, from civil rights legislation in the 1960s, to legislation protecting our environment in the 1970s, to his persistent, determined fight for health care throughout his career, from Medicare to the Affordable Care Act. Mr. Dingell also served in the U.S. Army during World War II.
Stevie Wonder
. A native of Saginaw, graduate of the Michigan School for the Blind, a musical prodigy who jumped into the national consciousness as a 12-year-old, and has been a part of the cultural fiber of America for 50 years.
Stevie Wonder is one of the world's most gifted singer-songwriters. Mr. Wonder has created a sound entirely his own, mixing rhythm and blues with genres ranging from rock and roll to reggae, and demonstrating his mastery of a range of instruments, styles, and themes. He is also a Kennedy Center Honoree, a member of the Rock and Roll Hall of Fame, and winner of 25 Grammys and an Academy Award.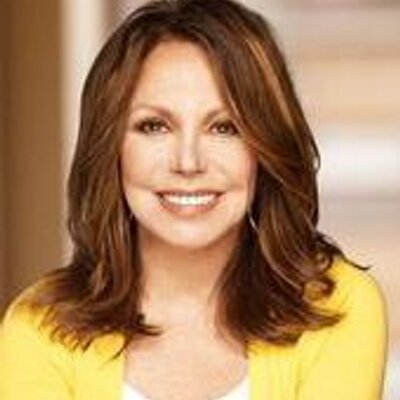 Marlo Thomas
. "That Girl" was a symbol of the emerging role of women in America, and now heads the magnificent St. Jude's Children's Hospital in Memphis, founded by her father Danny.
Marlo Thomas is an award-winning actress, producer, best-selling author and social activist. Whether championing equality for girls and women, giving voice to the less fortunate, breaking barriers by portraying one of television's first single working women on"That Girl," or teaching children to be "Free to Be You and Me," Thomas inspires us all to dream bigger and reach higher. Thomas serves as National Outreach Director for St. Jude Children's Research Hospital, a pediatric treatment and research facility focused on pediatric cancer and children's catastrophic diseases. The hospital was founded by her father, Danny Thomas, in 1962.
Strictly for Numbers Geeks
Dave Wasserman, the U.S. House editor at
Cook Political Report
, is compiling elections returns on all
435 House races
in a very handy Google Docs spreadsheet. Although the results aren't final nationwide, they show Republicans actually got more votes nationally for the House than Democrats (they fell 5-million votes short in 2012, but still won the majority of seats). The GOP received 5-million more votes than Democrats this time, with a 52-45% margin.
In Michigan, Democrats edged Republicans in the total vote for Congress, but gerrymandering gave the GOP 9 out of 14 seats.
The calculations also show the vote dropoff from 2012 to 2014. The biggest vote dropoffs in the state were in three very Democratic districts in the Detroit area:
12th (Debbie Dingell) -36.9%
13th (John Conyers) -43.0%
14th (Brenda Lawrence) -37.1%
That's where Mark Schauer lost the election for Governor.