The Curmudgeon is getting ready for the invasion of the Cowboys into East Lansing for what promises to be a gorgeous early autumn Saturday. With two siblings who hold degrees from the college campus located 7,165 feet above sea level, he has deep respect for their ability to even breathe while practicing.
Here's what we are seeing on the Internets this fine Pure Michigan day...
Obama Likely to Campaign for Gary Peters
TPM
reports the President, whose campaigning is being curtailed due to his low job-approval numbers, will in fact campaign in Michigan for Gary Peters.
It is totally understandable that the President's job approval is low. After all,
We've had nearly five years of uninterrupted job growth
The stock market has more than doubled since he took office
The nation's percentage of people without medical insurance has plunged
The Bush-era budget deficits have been cut in half
We have record domestic production of oil and gas, reducing our dependence on foreign sources
He saved GM and Chrysler from bankruptcy, thus saving Michigan's economy
That is, truth be told, a record of failure.
But he'll be coming to Michigan anyway and you can bet he will receive a warm, enthusiastic welcome.
UPDATE - Here Comes Michelle!
Michigan Democratic Chair Lon Johnson has confirmed that First Lady Michelle Obama will campaign in Michigan for Peters and Mark Schauer. Details coming...
You Can Talk With the Accountant at His First Town Hall
Michigan's Accountant in Chief, foundation-building Rick Snyder, says he wants to talk with the people of Michigan, so he'll meet with the unwashed masses at a series of 10 "town hall" meetings. You can go! Just register
here
for the first event in Kalamazoo to be held next Monday evening.
Earlier this week we posted a conversation between Michigan citizen
Bruce Fealk
and assorted Snyder minions, futilely trying to find out how to attend these events. The Curmudgeon is pleased to report Mr. Fealk's frustration has ended. He is aware of the Eventbrite registration process and has already procured his free ticket for the Kalamazoo event!
Another Amazing Aramark Embarrassment
Just when you thought the privatizing disaster in our prison system couldn't get any worse, it does.
An Aramark food services worker at the Kinross Correctional Facility outside Sault Ste. Marie is suspected of soliciting an inmate to murder another inmate.
Shades of
Orange is the New Black.
After her prison term ends, The Curmudgeon expects
"Big Red" will get a food-service job with Aramark.
Governor Snyder is now between a rock and a hard place. Had he acted at the first signs of trouble to end the Aramark contract, the whole thing would be ancient history and forgotten by the voters. Now it is front-and-center in the campaign, a symbol of bad management decisions that places corporate profit above the public interest.
Snyder put himself there with his blind faith in the wisdom of privatizing state government services, and turning them into profit centers for his corporate peers. A big problem with privatizing is that in order to 1) save the state money, and 2) generate a profit, the contractor ends up paying its workers less than had been paid to public employees, and the contractor cuts corners with suppliers.
You get what you pay for. In this case, you get maggots in the food line, sex in the kitchen, smuggling of drugs and other contraband, and now, murder for hire.
Followup: Snyder Fires Michael Moore in a Voicemail
The Curmudgeon took note yesterday that Oscar®-winning Michigan native Michael Moore had been dumped from the Michigan Film Advisory Board in favor of a venture capitalist buddy of the Governor's, Ted Serbinski.
Moore is the most successful documentarian in history. He also is the force behind the state's largest film festival, held every year in Traverse City.
The Governor showed class in how it was done: a voicemail message from a staffer in the appointments office. Moore kindly has shared the voicemail.
Fake News Site Attacking Dem Congressional Candidate Earns Flagrant Foul
The race between Tim Walberg (R-19th Century) and Pam Byrnes in the 7th congressional district is mostly down-and-dirty. The National Republican Congressional Committee (NRCC) gets special credit, though, for coming up with one of the most deceitful and unethical tactics: creating a phony "news" website.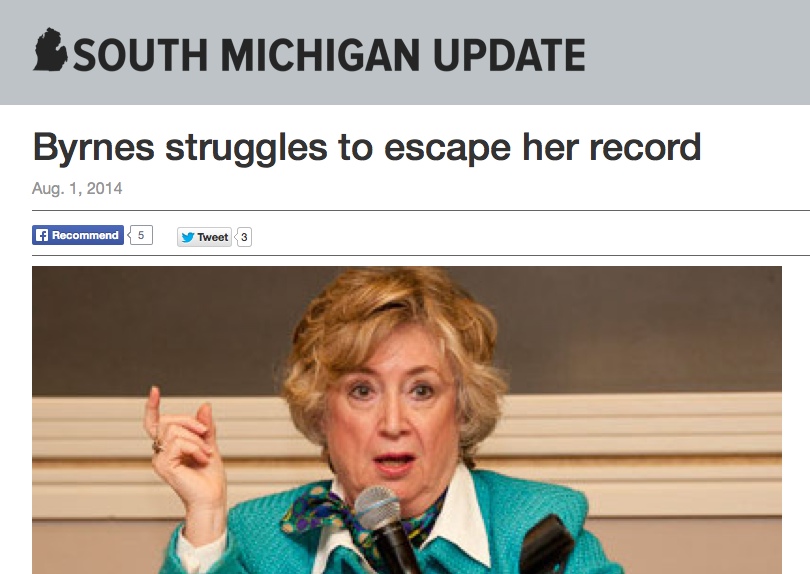 The NRCC's make-believe "news" website
We all know that many people believe anything they read on the internet if it comes from an attractive web site (the Curmudgeon gets lots of those links from his cherished mom-in-law). Well, the NRCC knows it as well. So they take a cue from their allies at the Mackinac Center for Public Policy and create a website that masquerades as journalism.
One of them, the
South Michigan Update
, promotes all sorts of half-truths and distortions about Pam Byrnes and disguises them as "journalism."
The Michigan Truth Squad doesn't think much of the tactic:
"Creating a website meant to fool voters into believing it is a news site, and publishing a fake news story attacking a candidate, is the height of deception and a disservice to the public."
Inside the Koch Brothers' Toxic Empire
If you don't already have nightmares about the impact of the Kansas bad-boys on America, you will after reading this well-documented
Rolling Stone
unauthorized profile of Chuckie and Dave. They have come up with dozens of ways to make money by adding to the pollution of our air and water, figuring out that it is cheaper to pay record fines than to simply act responsibly.
A 1996 explosion at a Koch pipeline in Texas. Two teens died.
The Kochs paid what was then the largest wrongful-death
judgment of its kind in U.S. history: $296-million.
One way to save us all money on our health insurance premiums is reducing the number of people who show up in the emergency room and don't pay. Uncompensated costs historically have been massive, and that cost ends up in the premiums the rest of us (with insurance) have to pay. It's one of the reasons for that $5 aspirin tablet you read about.
Uncompensated care costs the rest of us money
in the form of higher health insurance premiums
HHS reports that the Affordable Healthcare Act has brought with it a projected $5.7-billion drop in uncompensated care. The savings are the biggest in states which has expanded Medicaid coverage to include working families up to 133% of the federal poverty level ($4.2-billion or 73% of the total).
And the rate of uncompensated care is even going down in states that did not expand Medicare (leaving millions still without coverage). The reason: more families can afford to buy their own coverage because of the premium subsidies available through the Healthcare Insurance Exchange.