Snyder Scandals, Dodging Debates, Draws Criticism from Outside Our Borders
It's not just Mark Schauer and some Michigan media taking more shots at The Accountant. Today he's taking shots from two influential newspapers.
The growing mess that is the Snyder administration and Snyder reelection campaign is harshly criticized on the editorial page of the middle-of-the-road
Toledo Blade,
a newspaper that has significant circulation in Michigan's southeast corner.
The paper cites the growing list of scandals and missteps by Snyder: the Aramark mess in the prisons, the MSHDA expense account scandal, "not on my agenda" Right to Work for Less law, the pension tax and top aide Rich Baird's double life as a resident of both Illinois and Michigan.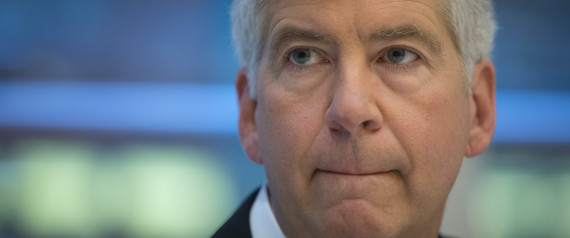 The paper concludes "
he would do well to apologize to <the voters>, and provide a full explanation of these missteps. He should also agree to televised debates with his rival, as his two predecessors did
."
This comes the same day as the highly read
The Fix
in the
Washington Post
labeled the Schauer-Snyder race one of "
The 12 governors' races you need to watch this year",
with the comment
"believe it or not, there are no debates set in this race... It's hard to believe that will hold up in a competitive contest in one of the most populous states in the country
."