The Curmudgeon freely admits stealing the phrase "Monday Moanin'" from the late Bob Talbert, longtime columnist with the Detroit Free Press. Plagarism is the sincerest form of flattery.
Compassionate Conservatives: Texas, Florida cities have highest uninsured rates in America
Because they hate
Obama
Obamacare, Rick Scott and Rick Perry lead states most in need of healthcare coverage ... but that refuse to take it.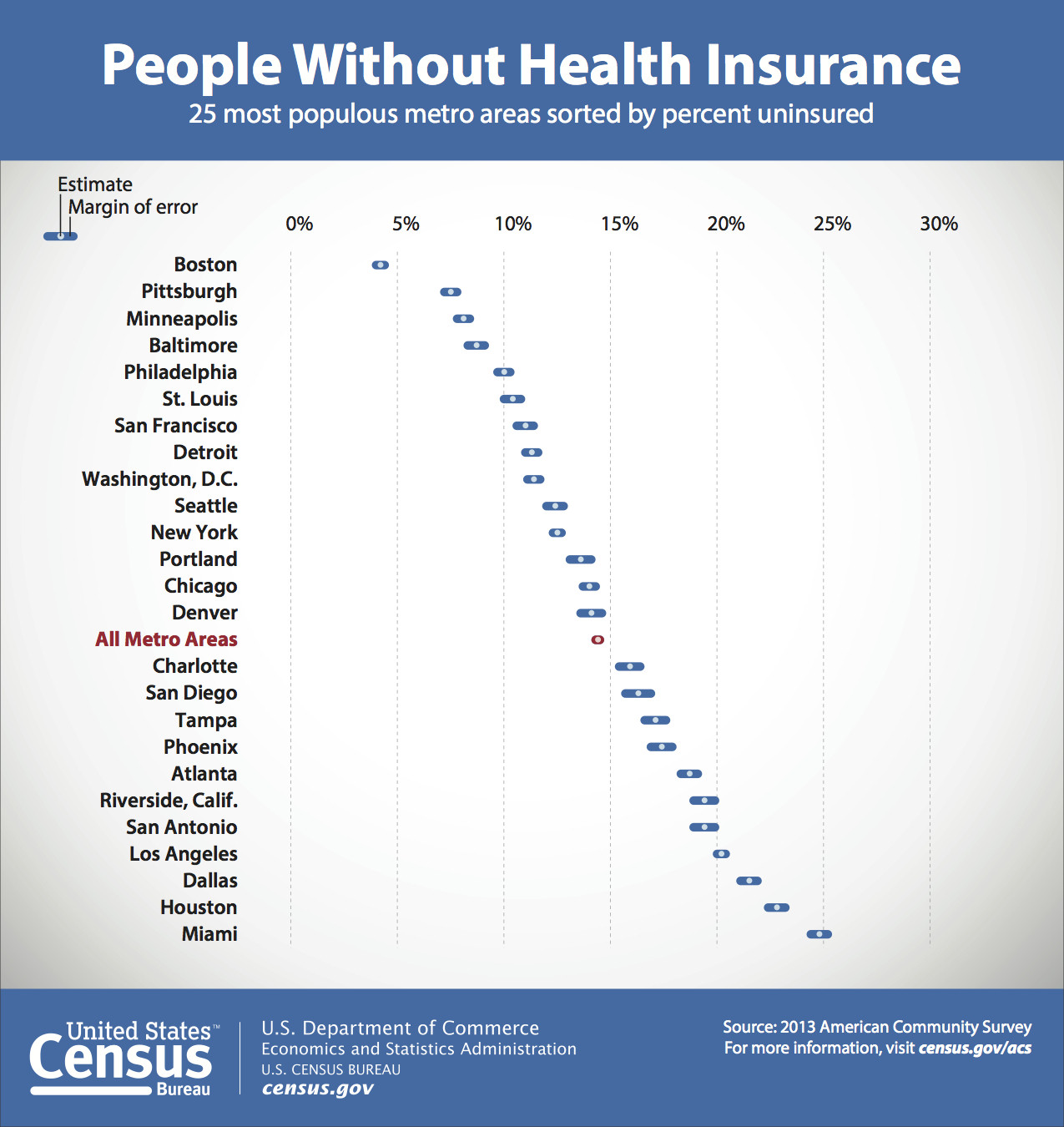 Seven of the 11 American cities with the highest rates of uninsured residents are in states that refuse to accept the federally funded Medicaid expansion. Five of the worst nine are in Texas (Houston, Dallas, San Antonio) and Florida (Miami, Tampa).
The highest uninsured rates for major cities in a Medicaid expansion state are Los Angeles (4th) and Riverside (6th) California, reflecting the fact (angrily denied by anti-Obamacare types) that undocumented residents do not qualify for Medicaid or healthcare insurance subsidies.
Snyder Takes More Out of the Pockets of Retirees ... Again
First the pension tax which cost many retirees thousands annually. Then, doubling retirees' share of healthcare premiums which typically cost retirees $1,800 a year. Now, pensioners face even more cuts in the form of higher deductibles and co-pays.
Retirees under the age of 65 will feel the pain the most, but it impacts all state retirees (disclosure: The Curmudgeon is a state retiree and seeing Governor Snyder significantly reduce the retirement benefits promised when he was working for the state).
Among the increased costs:
Office-visit co-pays increased 33%
ER co-pays increased 300%
Brand-name (non-generic) prescription co-pays increased 50%
Annual individual and family deductibles increased 33%
Out-of-pocket maximum for individuals increased 33%, for families increased 50%
All of this is a part of Rick Snyder's "shared sacrifice" which seems to share the sacrifice among retirees, low- and middle-income families, while cutting taxes for his buddies at the country club.
Coast Guard Unprepared for Great Lakes Oil Spill - Sierra Club Demands Snyder Action
Of course we all know that Enbridge never has oil spills from its network of pipelines. That gunk still lingering in the Kalamazoo River? Just your imagination.
Don Campbell/The Herald-Palladium/AP
So what do we do if the aging pipelines crossing the Straits of Mackinac pop a leak?
Well, we can't count on the
United States Coast Guard
. Rear Admiral Fred Midgette, commander of the district Coast Guard District 9, said in a memo to the Coast Guard's Deputy Commandant for Operations that we simply "are not capable of responding to heavy oil spills, particularly in open-water scenarios."
The Sierra Club is calling on Snyder needs to act immediately to assess the risk posed by the underwater Enbridge pipelines, and to stop heavy tar sands oil from being moved through the Straits.
The potential for environmental damage from a spill is in the catastrophic range. According to U. of M. research Dr. David Schwab, at any given moment there are more than one-million gallons of oil in the pipelines beneath the Straits of Mackinac. Because of current patterns the oil would quickly contaminate large portions of Lakes Michigan and Huron; even passenger ferry service and drinking water would be cut to Mackinac Island.
Wanna Go to a Snyder Town Hall? Good Luck!
The Governor won't debate because he wants to talk directly with the people and not with that pesky Mark Schauer.
When Oakland County activist Bruce Fealk, who is definitely a Michigan person and voter, tried to find out how to attend a Town Hall he got nowhere fast. Seems the Snyder campaign doesn't have a listed telephone number, and the Michigan Republican Party knows nothing. In fact, they referred Fealk to the Governor's office which was less than helpful.
Detroit Free Press Editorial: Put Children First
The paper, which devoted an eight-day series of articles to the (at best) mixed results of Michigan's embrace of charter schools, basically calls out the Governor and Legislature for forgetting about kids and focusing instead on their political agendas.
The editorial is an indictment of a government that is draining resources from public schools by expanding for-profit charters without safeguarding the kids or the taxpayers:
"
Having more options doesn't translate into better options for parents and children
."
The editorial laments a lack of movement in the Legislature, noting that "
in the two months since the Free Press charter series was first published, reaction has broken down along distressingly partisan lines. That's not surprising when so much unsophisticated heat is generated in Lansing on education issues — from charter school advocates, from the Michigan Education Association, from the Mackinac Center, from any number of ideologically driven interest groups.
"
Snyder dumps Oscar® winning filmmaker from state film board
Library of Congress photo
Politics trumps all ... again. Filmmaker and political activist Michael Moore is anathema to the GOP and especially the tea party wing that controls the Republican agenda, so he's gotta go.
The Flint native (who now lives outside Traverse City
* is the most successful documentary maker in history
*has won an Academy Award for his work
* is the driving force behind Michigan's biggest film festival in Traverse City
But he is no longer a member of the Michigan Film Office Advisory Council, replaced by some Ted Serbinski, a Birmingham venture capitalist who is ex-director of technology for A&E Television.
Tim Skubick: Aramark is Gift That Keeps on
Giving to the Democrats
Yes, Tim, it sure is. But that's what happens when someone is blinded by an ideology which tells him privatizing is always the better solution for providing government services.
Unlike Aramark, government is not evaluated on profit-and-loss statements, but on effectively providing necessary services in the public interest.
Republican Sam Brownback
is in political trouble in a
solidly red state
In addition to being the only headline this year to use the word "penury," the
Washington Post
editorial page sounds the alarm for supply-side Republicans everywhere. Cutting taxes and promises of unspecified budget cuts are politically attractive but fiscally disastrous.
In Michigan, Rick Snyder keeps telling us he has increased spending on K-12 education which, in the eyes of an accountant, he has. But he's done it in a way that has taken money out of the classroom. Just ask any school board member from anywhere in Michigan, Republican or Democrat. They'll tell you the reality of the Snyder budget.
And using tax cuts to spur your economy? Kansas went nuts with tax cuts. Snyder cut taxes for businesses with the promise that it would mean jobs, jobs, jobs ... but now refuses to say how many jobs have been "created" by his tax cuts, or by his income-cutting "right to work for less" law that wasn't on his agenda but passed in one day.
Kansas' experience is a warning for Snyder, Scott Walker, Rick Scott and every other tea party loving anti-government zealot across America. Sounds good, but it doesn't work.