The Curmudgeon is feeling introspective this morning, wondering if he's been a little harsh on Governor Snyder's tax-dodging two-state resident Rich Baird.
Nah, he hasn't been harsh enough.
Here's what's happening across the vast expanse of the World Wide Web this Tuesday...
U.S. Rep Kerry Bentivolio weighs write-in campaign after primary loss
Hooray!
With the departure of Kerry and Michelle Bachmann from the House, the entertainment value of the lower chamber will be hugely diminished. We need folks like that in Congress to remind the rest of us how relatively sane we are.
But seriously, folks, this (combined with his well-earned reputation as the Foreclosure King) could kill David Trott's effort to buy a seat in Congress from the normally very Republican Oakland County district.
Aramark Worker Arrested After 5 Inmates Found With Heroin, Other Drugs
Aramark must have given a bundle to the top-secret NERD fund to be keeping its $145-million contract with the state. Maggots in the kitchen, sex between Aramark employees and prisoners, smuggling drugs into prisons, smuggling cell phones and other contraband, workers untrained in prison security. The list seems endless. This didn't happen when the state utilized its own employees, who were paid a decent wage, to handle food services.
And it isn't happening in Lansing schools anymore, where the school board has dumped Aramark in favor of Sodexo-Magic, a company whose majority partner is a Lansing high school alumnus,
Earvin Johnson
.
The Curmudgeon doesn't dismiss privatization out-of-hand (although most of the alleged savings from privatizing comes by paying lower wages and/or benefits to workers). But instead of giving contracts to the low bidders who have no social conscience, government has an obligation to have services provided in a socially responsible way.
Since corporations are people, Aramark should have a conscience (people have consciences). Having demonstrated that it is lacking that human characteristic, Aramark should be fired just like you'd be fired for amoral behavior at your job.
Smartest Kids: Teaching Starts Early, With Special Focus on the Poor, in Minnesota
There's that state again, Minnesota: the state that leaves Michigan in the dust on so many metrics including per capita income, unemployment rate and student achievement. Multiple times The Curmudgeon has pointed to Minnesota as the example of success Michigan should emulate: invest in people instead of cutting costs, worry about quality of life more than Tax Foundation rankings.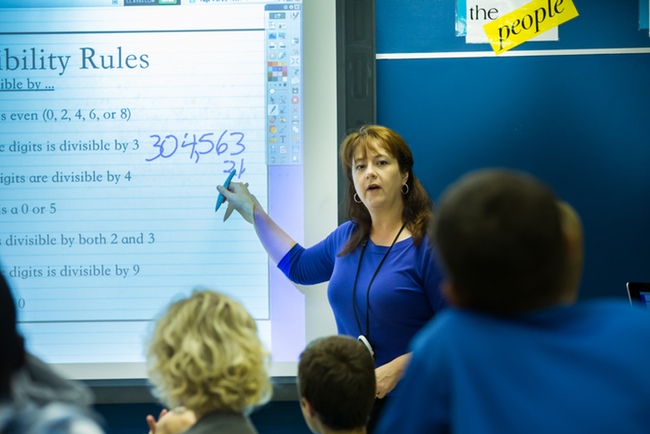 Bridge Magazine has an excellent analysis of what Minnesota is doing better with its K-12 system. While the two states spend the same amount (on average) per student, Minnesota allocates its resources differently and gets much better results.
There's no "silver bullet" in education improvements. It takes a series of steps designed to reinforce the quality of publicly owned-and-operated schools to raise the overall level of achievement, not a re-directing of resources into the profits of private charter companies.
And it should be noted that Minnesota's public schools are as heavily unionized as Michigan's, so we can stop trying to blame everything on the MEA.
Is Rick Snyder's Voice Altered in His Campaign Ads?
More than a few people have noticed that the Governor's whiny voice has suddenly become deeper and a little less grating in his two Kumbaya-moment campaign ads. The Curmudgeon is somewhat of an expert in electronic voice manipulation, having altered his own mellowness for commercials in the past.
It isn't just Schauer supporters wondering. The question has crept into the media, as demonstrated by this report on Lansing's NBC affiliate.
What is interesting is the response of the Governor's office, saying that he isn't the kind of politician who would seek out a coach to improve his voice. In other words, although he might have a weakness in his presentation skills, he isn't interested in getting better. I guess that is how you react when you are confident you are already better than the rest of us.
Goodrich Theatres, Michigan Election Reform Alliance Team Up for Voter Registration
This 60-second PSA is showing in the lobbies of the Goodrich Quality Theatres in 16 Michigan cities. Produced on a shoestring by the
Michigan Election Reform Alliance
, the message is simple: get off your butt and register to vote.
And while we're at it, don't forget you can apply for an absent voter ballot using your smartphone or tablet by going to www.MIAbsentee.com (it only works on touch-screen devices because you have to sign the form with your finger).
Republicans Unanimously Block Equal Pay Bill
War on women? Naw. Not us! Just ask Terri Lynn Land. She's a woman, and she may be against pay equality and birth control and stuff like that, but anti woman? No way!
As for Mitch McConnell, he probably should have remembered that he's running in a close race against a woman who actually fights for things important to most women.
By the way: the unanimous GOP vote against Paycheck Fairness Act included the nay votes of Senators Lisa Murkowski, Susan Collins, Deb Fischer and Kelly Ayotte. They should give up their keys to the women's restrooms in the Senate. (I had a pithier taunt for them, but thought the better of it...)
John McCain Votes To Preserve A Supreme Court Case He Called The "Worst Decision Ever"
I've had it with the blowhard from Arizona. John McCain is all over the map on issues time after time.
This is a man who built his political career on the aftermath of getting his plane shot down over North Vietnam (the fourth U.S. military plane he flew into the ground during his less-than-stellar career as a pilot). He suffered mightily at the hands of the North Vietnamese during his four years in the Hanoi Hilton and I respect him for his perseverance. But suffering, even extended great suffering, does not necessarily impart wisdom or intelligence. Sadly, John McCain increasingly demonstrates he lacks both.
His vote to uphold
Citizens United
after denouncing the ruling fits in snugly with his opposition to an immigration reform bill he introduced, his constant bad predictions regarding our stupid invasion of Iraq, his flip-flops on foreign policy, his never-ending quest for another ground war anywhere ... and his amazing conclusion that Sarah Palin was fit to be one heartbeat away from the Oval Office.
John, just go away.
John Stewart Illustrates Why I Cannot Take Lindsey Graham Seriously
U.S. Pushes Back Against Warnings that ISIS Plans to Enter From Mexico
How much evidence is there behind right-wing warnings of an invasion of terrorists from the south? ZERO. That's enough, though, for some of the wingnuts in Congress ... not to mention the buffoons-masquerading-as-journalists on Fox News.
How many of the 9-11 terrorists snuck into the U.S. through the Mexican border? None. In fact, they all entered the United States legally but had forgotten to put the "I'm a terrorist" stamp on their passports or visas.
Fear is a powerful motivator, but fearful statements based on lies, supposition and baseless accusations is the definition of demagoguery. And that's one more reason people hold all of government in such low esteem. Sadly, the good people in elected office are tarred mightily by the jackass demagogues who will say anything to get their way.