IMPORTANT NOTE FOR EMAIL SUBSCRIBERS
First of all, if you don't already receive the daily digest please enter your email address on the left.
If you have a subscription, you might notice big holes in unexpected places. That is where a YouTube video should be appearing but, for some reason, does not.
I'm working on figuring it out. Until I do, if you see a hole in the email click on the link for that item and you will magically be transported to the item!
The Curmudgeon is working on a voter registration drive all day today, so the updates to this post may be sporadic at best. Here is some of the stuff going around the internets as we officially begin the day and begin autumn...
Business Tax Cuts Don't Create Jobs, Because Taxes Are Often Not the Major Concern
To hear Republicans talk, Michigan's "high" business taxes drove us into a recession at the end of the Engler administration ... and the massive Snyder business-tax cuts will be our long-term economic salvation. "You may not feel it now, but you will..."
Unfortunately, the actual real world demonstrates that this is delusional economics.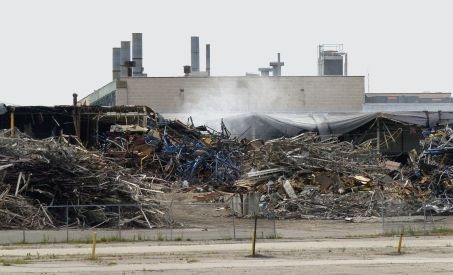 Greenville's Electrolux plant. RIP.
As part of its six-part series on state taxes, the always thought-provoking
Bridge
e-zine looks at the factors important to businesses when making decisions on where to locate. Turns out taxes are low on the list for many companies.
Other factors can and often are more important: labor costs, availability of skilled labor, proximity to markets (especially important to manufacturers), transportation infrastructure, regulatory structure and quality of life all are important.
Hanging our economic hats on the hook of "low-cost state" is bound to fail. The
Bridge
analysis talks about the decision of Electrolux to close shop in Greenville, moving 2,700 jobs to Mexico and South Carolina. The reason: cheaper labor.
You can always find cheaper labor, if not in the south of the United States, then outside our borders (unless you want to match Mexico's $1.57/hour wages).
A more intelligent strategy is outlined in the latest report from
Michigan Future
, which looks at the strongest state economy in our region: in Minnesota. Instead of focusing on cutting costs, Minnesota focuses on investing in people, infrastructure and quality of life. It is paying off.
The Eternal General Joins Bill Milliken in Endorsing Mark Totten
Frank Kelley, the man who "wrote the book" on a consumer-protection-oriented Attorney General, has added his endorsement to Mark Totten's campaign for A.G.
Kelley served 37 years as Michigan's top lawyer, the longest service of
any statewide elected official in any state
in American history. He served under five Michigan Governors in both parties. During his tenure his focus was on protecting ordinary citizens from government and big corporations. He successfully campaigned for unit pricing, fought excessive utility and insurance rate increases, and was a champion of environmental protection (he often battled side-by-side with Milliken on environmental issues).
Kelley left office a long time ago (in 1999), succeeded by Jennifer Granholm, but his name still carries a lot weight. Kelley turns 90 this New Years Eve and is still active in the law firm he co-founded with one-time state House Republican leader Dennis Cawthorne.
A lifelong friend of The Curmudgeon, Kelley is mentally every bit as sharp today as he was back in the day even if he has slowed down a step or two. His renowned sense of humor remains intact. He opened a speech to the state Democratic convention in August with the line "you probably were asking 'is he still alive?'"
Yes he is most certainly alive and well.
Kelley's support is a plus for Totten in his battle with tea party favorite Bill "I Wanna Be Governor" Schuette.
Fred Upton Has Changed. Amazing what a lot of oil money can do.
6th District challenger Paul Clements' latest TV ad is beginning to make the rounds, taking Whirlpool heir Fred Upton to task for evolving from a pretty decent environmentalist to a tool of the oil industry. Oil ... isn't that the foundation of Koch Industries?
Five Awful GOP Governors Who Need to Go
The Daily Beast
columnist Michael Tomasky minces no words describing the horribleness that is embodied in five products of the tea party surge in 2010. Fourth on his list is Michigan's own Accountant-in-Chief, Richard Dale Snyder.
"
Snyder is too conservative for that state. It's as if, oh, Indiana had a Democratic governor – it's something that happens, but it's just not the natural order of things."
Joining the man who presided over Gateway Computer's demise on Tomaskey's Hall of Shame list are Florida's Rick Scott, Cheesehead Scott Walker, Georgian Nathan Deal and America's
"highest-ranking elected baboon," Maine's Paul LePage.