A point of personal privilege: Anne Savage, the much-too-good-for-him wife and business partner of Eclectablog publisher Chris Savage, is in a tough battle with what the doctors believe is viral meningitis. She's been in-and-out of the ER with high fevers and headaches.
The prognosis is positive but it is definitely a rough patch for two really good people.
(Chris is posting updates on Facebook so it's not violating their privacy to share.)
From across the Internets on Friday:
Aramark Is Now Schuette's Political Problem Too
Democratic Attorney General candidate Mark Totten has planted the Aramark logo directly on Bill "On Duty" Sehuette's back. As a member of the State Administrative Board, Schuette
voted in favor
of the state's three-year, $145-million contract with the company that has brought food shortages, maggots, drugs, sex and mur
der-for-hire to state prisons. Fully one-third of Aramark's employees have been banned from Michigan prisons in the last year.
In a news release Totten challenges Michigan's chief law enforcement officer to do something.
"Bill Schuette approved this prison contract, yet despite multiple reports of misuse of taxpayer funds, he refuses to investigate,"
Totten said.
"This is a waste of taxpayer money and a dangerous abuse of power in the prisons he helps oversee. Bill Schuette needs to do his job."
Michigan Dems Call Out Phony Non-Profit
The group is called "Michigan Jobs & Labor Foundation." Apparently, the non-profit corporation's focus is on jobs for Republicans in the state Senate. The secretive bunch (thank you crappy campaign finance disclosure laws) seems to spend all of its money on ads extolling Republican candidates for the Michigan Senate. But non-profits aren't allowed to actually ask you to vote for or against someone ... just to "call them" and tell them to keep up the good work or go to Hell, depending on the issue.
Democratic chair Lon Johnson is calling on the IRS and Michigan Secretary of State to investigate the group which has, effectively, already admitted guilt by pulling the ads from both TV and its YouTube page.
One clue as to the political intent of the group: its officers:
President- former Republican state Senator Phil Hoffman, now a Lansing lobbyist
Vice president- former Republican state Senator Alan Sanborn, now a Macomb County probation officer
Corporate secretary- Matt Marsden, whose day job is press secretary to Senate Republican leader Randy Richardville
Treasurer- Ellen Kletzka, also an officer of the GOP consulting firm The Sterling Group which fronts numerous secretive tax-exempt corporations engaging in political advocacy
The organization's official phone number reported to the IRS is the same number as the State Senate Republican Campaign Committee. The "Foundation" reported income of $632,25
0 in 2012.
"The information that's already been uncovered about this organization has raised serious questions about whether the Michigan Senate Republicans are flagrantly violating Michigan's campaign laws," said Johnson.
"There is seemingly no reasonable explanation as to why the phone number for this organization that's listed on file with the IRS is the same phone number used by the Senate Republicans' campaign committee. I would expect both the state and the IRS to follow up immediately with a thorough investigation into this organization's finances so the people of Michigan can know the truth."
Snyder Ad Criticizes Schauer for Vote to Increase School Funding
(The Bill Passed the Senate Unanimously)
Rick Snyder continues to use accounting gimmicks to show he's "increasing" spending on public education when just about any member of any school board will tell you he has taken money out of the classrooms.
The latest exercise in misdirection is an ad featuring "Linda," allegedly a school teacher who thinks Snyder is just peachy. (Apparently she hasn't heard about the increased taxes on her pension that await her.) And the ad, in effect, attacks a Schauer vote on a 2003 bill which increased funding for K-12 education by $152.4 million. The bill was approved by the GOP-controlled state Senate 38-0.
As for the conflicting claims over support for public education, the FY 2011-12 Education budget actually cut $1.159-billion from education at all levels including $931-million from K-12. And the ongoing expansion of for-profit charter schools is draining even more money out of public school classrooms.
To back up his numbers, Schauer quotes from that bastion of GOPism: The
Detroit News:
"But the $14.7 billion education package laid out Thursday relies heavily on incentive-laden funding some say is unfair. And it fails to fully restore funding cuts made last year, when Snyder trimmed more than $1 billion from Michigan's School Aid Fund."
[Detroit News, 2/10/12]
Zack Pohl, Schauer's Communications Director, informs us that
"Linda" actually lives next door to Snyder's $1-million lake mansion
God Bless Jon Stewart, Chapter 9000
The Daily Show brings sanity to the discussion more than any media outlet in existence. They did it again Thursday with Jon Stewart's totally appropriate rant at those upset over the coffee-cup salute and the crass hypocrisy of jackasses like Sean Hannity and Karl Rove. Enjoy...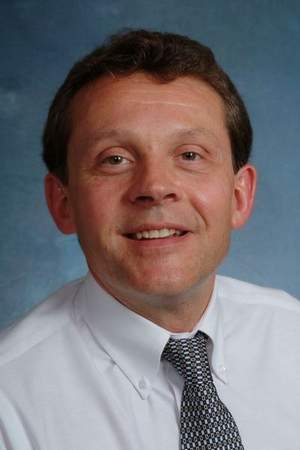 The controversy over the secretive Michigan Jobs & Labor Foundation is just one more example of why Michigan's campaign finance laws are a joke. Rich Robinson, the respected head of the Michigan Campaign Finance Network, has an excellent column in the current issue of Dome Magazine on ending the secrecy. It's time the voters knew who was spending millions to influence their vote.
From ThinkProgress.org
Yes, the $4,800 went to the same candidate who has benefitted from $8-million or so in campaign spending by the Koch Brothers: "Silent Terri" Lynn Land.
Ms. Land is perfect for the coal industry. She doesn't believe in climate change, she isn't worried about greenhouse gases, and she's all for the Keystone pipeline even though it won't create jobs in Michigan (or the United States) but will raise gasoline prices in the Midwest.
The story has come to light because Murray Energy, the natio
n's largest independent coal company, is being sued by a former employee who claims she was fired for refusing to give campaign money to candidates chosen by her boss.
In 2012 the
New Republic
reported that employees of Murray Energy are told when hired they are expected to contribute 1% of their salary to the company PAC by automatic payroll deduction.
From Mother Jones:
Libertarian Republican Sam Brownback made no bones about it when he became Kansas Governor: he believed in tax-slashing economics, and he followed through.
At the behest of his home-state billionaire buddy Charles Koch he wiped out state taxes for 200,000 small businesses (including 20 subsidiaries of Koch Industries), slashed the personal income tax with the biggest cuts for his wealthiest constituents. He gutted the power of teachers' unions, privatized Medicaid and dumped thousands from the welfare rolls.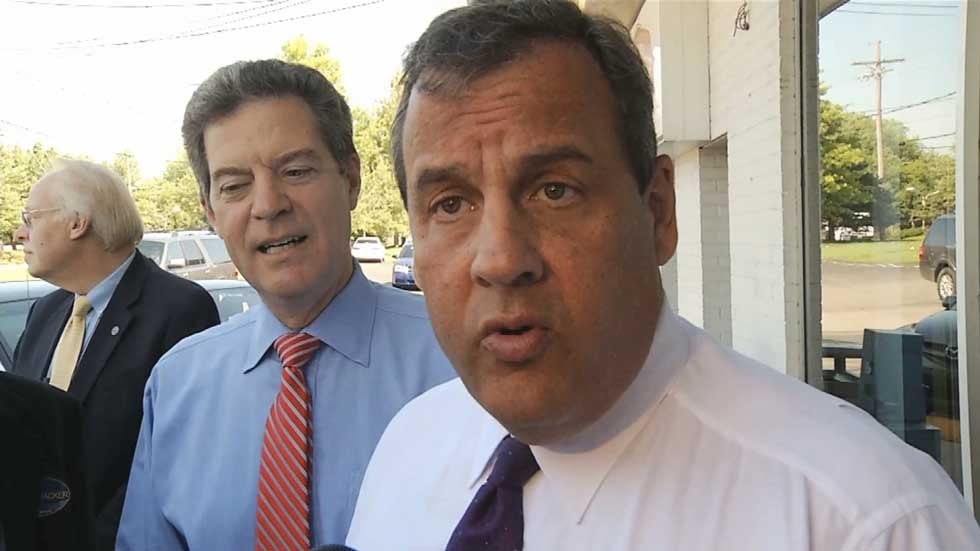 Brownback called in scandal-plagued New Jersey
Governor Chris Christie in an effort to revive his
flagging reelection campaign (KCTV photo)
He even paid Reagan-era economics guru Charles Laffer $75,000 for three days work encouraging the Legislature to enact his radical agenda. Backed by Koch money he also launched a successful purge of moderate Republicans from the Legislature.
Well, the results of the experiment are in:
#EconomicsFail, a state in "cardiac arrest."
The state's $700-million budget surplus is now a $238-million deficit; both Standard & Poor's and Moody's have downgraded the state's bond rating.
And Sam Brownback is on track to lose his reelection bid in one of the most reliably Republican states in the nation. His reelection is opposed by a coalition of Republicans. (One of the purged GOP moderates, state Senator Jean Schodorf, is now the Democratic candidate for Secretary of State.)